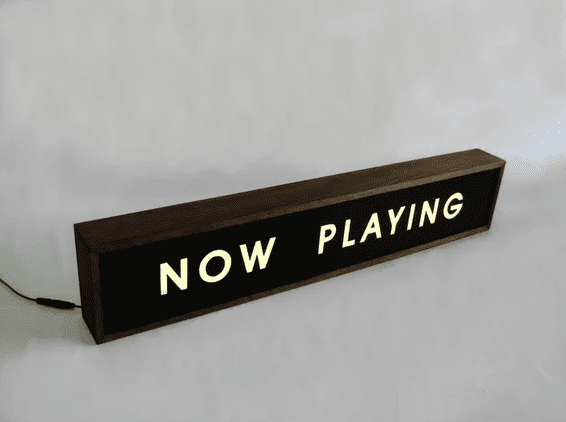 Wooden Lightbox - Now Playing
The Tasmanian oak wood structure is designed and finished by hand with a black or brown stain of your choice (please let us know when ordering) , giving it an organic and natural grained appearance.
The white hand painted writing "NOW PLAYING" on perpex, on a black background and distressed rustic effect, adapts to the vintage industrial style.
To sum up, it is a brand designed for music lovers and fans of retro decoration. It works via its switch button.
Features :

Weight: 2.15 kg
Length: 84cm
Height: 16.5cm
Depth: 7.5cm
Light source: LED
12V mains socket
Power cord: about 1.2 meters


Add to wishlist
Deliveries
Delivery costs are free on the entire store except for custom creations (neon lights and other custom-made signs).
The order preparation time is 3 to 5 days (up to 8 days for bulk orders), the delivery time is indicated by product range on the dedicated page: Delivery and returns . These deadlines can obviously vary for reasons beyond our control (eg social movements). Saturdays, Sundays and public holidays are not working days. Ditto in the event of a large order volume. (Exception indicated in the description of the article) They are therefore not taken into account in the calculation of the delivery time.
We do not have all the items in stock (tailor-made creations for example), the delivery time will therefore be longer for these items, we invite you to read the dedicated page.
*All the neon lights presented on the site are custom-made. We leave it to ourselves to modify the location of the adapters according to the complexity of the work without deforming or distorting it.
Order and returns
Returns
Returns are accepted, up to 15 days after purchase: if the item does not correspond to its description only or is delivered damaged, the items are refunded and the seller pays the return costs. This clause does not include custom-made items (eg the collection of neon lights and other personalized signs). Shipping costs are only refunded to the buyer for the following return reasons: Item Condition, Incorrect Description, Incorrect Item Received, Defective or Damaged Item. The seller has a maximum of 7 days to declare the good reception of the article in accordance with the state in which he sent it. You will then be automatically refunded the amount of the item.
Damaged item or incomplete order.
We make every effort to deliver items in perfect condition and complete orders. However, it is not excluded that an incident occurs. If your package or an item is damaged: notify the delivery person, immediately if possible, that the package is damaged contact our customer service. We will discuss the problem with you and ask you to provide us with the following: - an overall photo of the package (outside appearance) on which the label is visible - a photo of the open package clearly showing the contents and the interior packaging - a photo of all the inner packaging in the package an overview photo of the item - a close-up of the damaged part of the item. If your order is incomplete, contact us by email at service.client@monenseignementlumineuse.fr
---